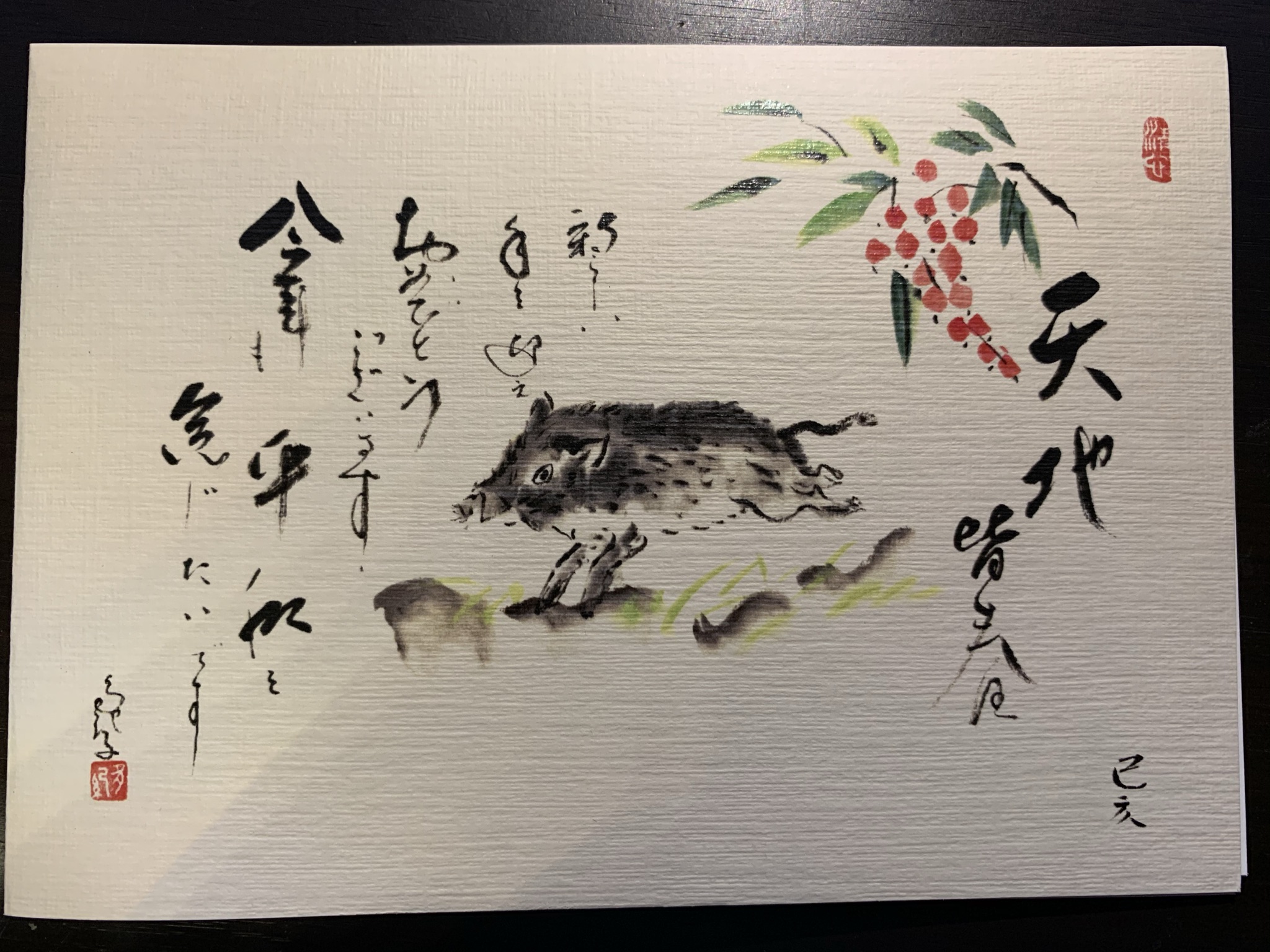 Japanese people don't write much Christmas cards, but they write "Nengajo (New Year greeting card)" by December 25th and post it to the mailbox. The post office delivery staff will distinguish this New Year's cards from other mails and deliver them to the destinations on January 1st, no matter when they are posted. Therefore, Japanese postal workers are quite busy this season.
Japanese people write about 100 New Year's cards every year. The number varies from person to person, but my university professor receives 2,000 New Year's cards in January. When Japanese receive a New Year's card, it is normal to reply. However, it is difficult to reply to 2,000 people, so my teacher announced an apology and said, "I am very sorry that I could not reply to everyone."
Writing 100 New Year's cards is hard work. It takes me three days to write 100 New Year's cards. It takes a lot of time, so Japanese people these days print using a personal computer. However, I am a little happy to receive a machine-copied New Year's card, but to be honest, I feel that it is a little unsatisfactory.
On the other hand, Japanese people are very impressed when they receive a handwritten New Year's card. Washi (Japanese paper) is the traditional paper in Japan, but if Japanese can get a New Year's card of such paper, their happiness will be doubled. If you go to the stationery section of a Japanese department store, you can find good quality Washi postcards.
商品詳細|鳩居堂 はがき・カードの専門店 (kyukyodo.co.jp)
For Japanese people, New Year's cards have a greater impact on the Japanese spirit than Christmas cards and birthday cards. This is because the history of the Japanese people is incorporated into the DNA of the Japanese people.
Japanese people write the following contents on New Year's postcards.
"I would like to express my heartfelt gratitude to those who took care of me last year. And I would like to thank you for your cooperation in the New Year."
By all means, please send the New Year's card to the Japanese with all your heart, not by copying, but by handwriting. I'm sure Japanese people will feel very happy for your card.