The Kitahama is located directly above Kitahama Station on the Sakaisuji Subway Line. It is also connected to Kitahama Station on the Keihan Line by an underground passage. Because it is near the street of Doshomachi, a historically famous pharmaceutical company town in Osaka, there are many historic buildings nearby. The Mitsukoshi department store was demolished and The Kitahama was built using the site.
The Kitahama is proudly the number one in the popularity ranking of Sumitomo Realty & Development's 2020 edition.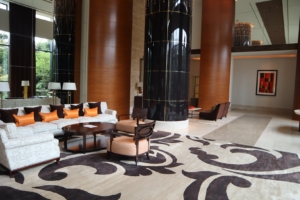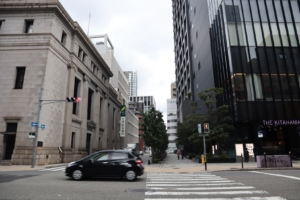 In Japan, industrialization progressed rapidly from 1950 to 1990 after the war. In order to develop the manufacturing industry efficiently, restricted areas (zoning) have been defined in the urban development plan by Japanese government. The factory area, residential area, and commercial area have been set separately. As a result, good housing was located in the suburbs, and the living environment in Osaka was not good. Since around 1990, tower type high rise apartment buildings have been built in central Osaka. And people who lived in the suburbs began to move to the center of Osaka. This is because tower type apartment have made it possible to create a better living environment than a quiet living environment in the suburbs.
The Kitahama area has the historic atmosphere of "Doshomachi" and the atmosphere of the office district of the stock exchange. It's not a bar like Namba or Dotonbori, so Kitahama area is safe and the nature of the locality of Kitahama is elegant. There are no large department stores. There is no electric shop, so people have to go shopping to Yodobashi Camera in Umeda.
The Kitahama is adjacent to a commercial facility called KITAHAMA PLAZA. It is very convenient for daily life to have a Konami gym, a food supermarket and restaurants. Konami here is classified as a high-grade one with a large facility and beauty. All the shops in KITAHAMA PLAZA are of high grade, so they are preferred by wealthy customers. The residents of The Kitahama are also wealthy people, so the building and the surrounding area have a luxurious atmosphere.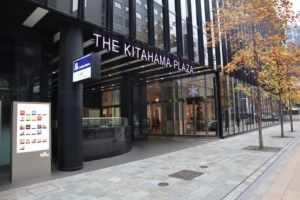 Such real estate development is called "Complex Use". Complex development is close to work and residence. Complex development means a break from the Japanese old-style life of working at a factory for a fixed amount of time and returning home on a crowded train. People work in a cafe on a laptop computer. Work meetings end up in a cafe next to the apartment. Playing while working. From such a lifestyle, people can generate intellectual ideas. The "Complex Use" is a lifestyle for intellectual labor in a knowledge-information society, not Japanese traditional mechanical labor in a factory.